History  
Edit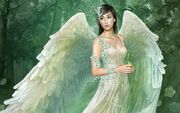 Angelia is Angel Fairy. She was born on May 1 1997, and she was born to Lino The Heaven Pixies and Blue Bell the Divina Fairy and is Sister of Silver the Harmony Fairy and Leno the Truth Pixie and Twins Sister of Catilla The Cat Fairy and Cousin of Erotia, Khiona, Irisa.
Light
Healing
Light Travel
Summon
Answer Pray
Ad blocker interference detected!
Wikia is a free-to-use site that makes money from advertising. We have a modified experience for viewers using ad blockers

Wikia is not accessible if you've made further modifications. Remove the custom ad blocker rule(s) and the page will load as expected.