Blu Spector
Biographical information
Born

31st July, year unknown

Died

N/A

Magical Type status

Witch, uses love magic most

Marital status

Single and interested in Prince Zach Grey

Also known as

The Girl who Lived

Title(s)

Cheerleader 

Signature

Physical information
Species

Human Witch

Gender

Female

Height

5'7"

Hair colour

Pink and long

Eye colour

Change

Skin colour

light

Family information
Family members

Unknown mother (RIP)
Unknown father (RIP)
Pinki Spector

Magical characteristics
Shape Shift

White fluffy cat

Biggest Fear

Being alone

Wand

10" Cherry Wood

Shield

Crane

Affiliation
Occupation

Cheerleader

School

Unknown name

Loyalty

Pinki Spector
Royal family
Blu Indigo Spector is the orphan daughter of typhoon Jacob Spector and actress Thalia Spector. She has a twin, Pinki Spector. A cheerleader and aspiring artist, she is the love interest of Prince Zach Grey.
Born in London, the year unknown, to rich typhoon Jacob Spector and Thalia Spector, her parents were killed days after in a car crash. They were given to Thalia's mother, beliving their parents were to young to even see them. They never knew their parents. EVER. One day, whilst at a school, some dark wizards came, and tried to kill everyone in the school. Pinki and Blu were the only survivors, who were moved do a different school. Blu fell for Prince Zach instantly.
WIP
Physical Apperance
Edit
Blu is described by many as rather pretty, and some go as far as to say 'drop-dead gorgeous'.  She has a soft voice, and her eyes change color. As a young girl, she had large front teeth, until she asked to have them downsized to a normal size by her grandmother, a witch too.
She often pays lots of attention to her apperance, brushing her hair carefully, applying lip gloss, blusher, e.t.c. Clothing wise, she often wears full school uniform, neatly worn. She always has a hair band and shoes with heels with her uniform. Out of school however, her clothing style varies.
Personality
Edit
Blu is known for being very shy and calm. Whilst everyone else will run out of class like elephants, she walks dantily and calmly. She loves animals, and plants, her favorite tree being cherry blossom. She is very compassionate, and will do anything for what she belives is right. She is very active, bendy, and a great dancer.
Possesions
Edit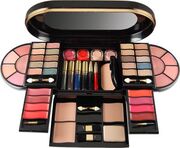 WIP
Ad blocker interference detected!
Wikia is a free-to-use site that makes money from advertising. We have a modified experience for viewers using ad blockers

Wikia is not accessible if you've made further modifications. Remove the custom ad blocker rule(s) and the page will load as expected.