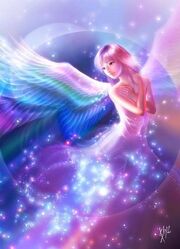 Irisa is Rainbow Fairy. She was born on December 25 1998, and she is Daughter of Pandio the Moon Pixie and Raina The Water Fairy, and sister of Starla the Star Fairy and Noel The Earth Pixie and twins sister of Elena  The Dragon Fairy, and Cousin of Erotia, Khiona, Angelia.
Rainbow Travel- Travel with a Rainbow
Colors-Change Colors of her hair, and eyes and Body.
Light-glow in the Light, and have a light inside her, and Stronger then Dark.
Wishes-Makes people wish to come true and dream come true.
Posses the Irisa Message-Carry and Deliever Irisa Message to everyone and send  Irisa Well, and Rainbow Coins.
Vision-Show them her Visions.
Shift into Dragons.- Shapeshift into Dragons.
Speak to Unicorns,- can communication with Unicorns
Summon Peagas-Call the Peagas
Speech with Horses- Talk to Horses in her Mind and their minds.
Rainbow
Ad blocker interference detected!
Wikia is a free-to-use site that makes money from advertising. We have a modified experience for viewers using ad blockers

Wikia is not accessible if you've made further modifications. Remove the custom ad blocker rule(s) and the page will load as expected.