History                                                                           
Edit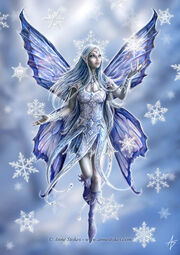 Khiona is a Snowflake fairy. she was born on Janary 16 1999, to Aquilo and Frosta, Winter Pixies and Frost Fairy. is Sister of Icila, The Ice fairy and Cole, The Cold pixies, and Northa the Northwind  Fairy and Twins sister of Larainta The Wolf Fairy and Cousin of Erotia, Irisa, Angelia.
Snow
Snowflakes
Snow
Snow Travel
Ad blocker interference detected!
Wikia is a free-to-use site that makes money from advertising. We have a modified experience for viewers using ad blockers

Wikia is not accessible if you've made further modifications. Remove the custom ad blocker rule(s) and the page will load as expected.