"They shall be my finest warrior, these men who give of themselves to me. Like clay I shall mould them and in the furnace of war forge them. They shall be of iron will and steel sinew. In great armor I shall clad them and with the mightiest weapons they will be armed. They will be untouched by plague or disease; no sickness shall blight them. They shall have such tactics, strategies and machines that no foe can best them in battle. They are my bluwark against the Terror. They are the Defenders of Humanity. They are my Space Marines and they shall know no fear."
- The Emperor of Mankind
The 
Space Marines 
or 
Adeptus Astartes 
are foremost amongst the defender of humanity, the greatest of the Emperor of Mankind's warrior. They are barely human at all, but superhuman; having been made superior in all respects to a normal man by harsh regime of genetic modification, psycho-condition and rigorous training. Space Marines are untouched by plague or any natural disease and can suffer wounds that would kill a lesser being several times over, and live to fight again. Clad in ancient Power Armor and wielding the most potent weapons known to Man, the Space Marines are terrifying foes and their devotion to the Emperor and the Imperial of Man is unyielding. They are the God-Emperor's Angels of Death, and they know no fear.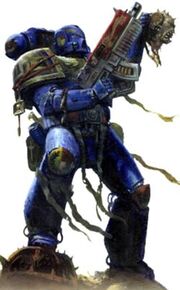 The Space Marines are the Imperium of Man's supreme warriors. Genetically-enhanced to be the ultimate soldiers of Mankind, they arefar stronger and more resilient then ordinary human beings.Space Marines are organized into roughly a thousand Chapters, with each Chapter numbering approximately 1000 warriors organized into ten companies of 100 troops each. Each Chapter is a self-sufficient Imperial army, equipped with its own spacecraft and capable of responding at a moment's notice to any threat to the security of the Imperium. Every Chapter is fiercely proud of its history and achievements, and each one has its own distinctive colours and heraldic markings. These were established at the Chapter's Founding and are displayed with pride upon all of its armour and vehicles. All of the wargear of the Space Marines is painstakingly maintained, and many items are covered in lines of intricately rendered devotional script in High Gothic, each line detailing a battle honour won in a glorious campaign. A Space Marine is a towering warrior, his brute strength tempered by inhuman skill. He is armed with the fearsome Bolter, a blessed weapon that fires devastating, mass-reactive shells that explode within the flesh of the target. He is protected by a suit of Power Armour, shielding him from the fiercest of enemy fire whilst simultaneously strengthening his blows and allowing him to survive the most hostile of environments. He is the product of intensive training and genetic manipulation, which transforms mortal men selected from the deadliest warrior races in the known galaxy into the most lethal of superhuman killing machines in Mankind's arsenal.
Ad blocker interference detected!
Wikia is a free-to-use site that makes money from advertising. We have a modified experience for viewers using ad blockers

Wikia is not accessible if you've made further modifications. Remove the custom ad blocker rule(s) and the page will load as expected.