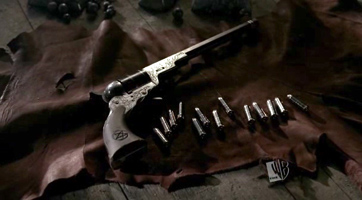 Back in 1835, when Halley's Comet was overhead, same night those men died at the Alamo, they say Samuel Colt made a gun. A special gun. He made it for a hunter. A man like us, only on horseback. Story goes, he made thirteen bullets. This hunter used the gun a half dozen times before he disappeared, the gun along with him... Somehow Daniel got his hands on it. They say... they say this gun can kill anything.
caliber: 45
location: Unknown 
It is unknown where the colt is but most people believe it to be somewhere in Texas. 
Ad blocker interference detected!
Wikia is a free-to-use site that makes money from advertising. We have a modified experience for viewers using ad blockers

Wikia is not accessible if you've made further modifications. Remove the custom ad blocker rule(s) and the page will load as expected.