This realm has been attacking other worlds and realms and has been founded by the creater,Ellinora, and was sealed but before that her twin sister went into this realm never to be seen again. years later the demons and the twin,now queen, has now broke the seal.
The demons are terrorizing heaven and shadow realm but they have moved on into heaven. there worlds are now connected and are directly under them. the shadow realm has been sealed off from the underworld and is being protected by Ella and Violet.
it is that this realm is trying to get out into other realms and worlds beyond that. 
vlad has been reborn in the dead and is now seeking revenge against Ella for killing him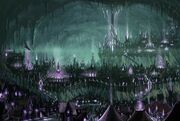 the dead souls that walk in the underworld are in heaven and have done terrible crimes and are punished which the demons like to do
Ad blocker interference detected!
Wikia is a free-to-use site that makes money from advertising. We have a modified experience for viewers using ad blockers

Wikia is not accessible if you've made further modifications. Remove the custom ad blocker rule(s) and the page will load as expected.